4 About
4.1 About this site
This website is built using scribble, the documentation tool of Racket. I choose this tool because that Racket (or Lisp) is one of my most favourite programming languages, and it's also the reason why this site is called Josh In Brackets. You can find the source of this site on GitHub. You can share this site with the QR code below easily: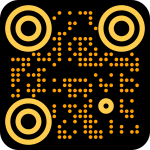 4.1.1 How to contact me
I am on this Discord server with the same ID. Or you can find me via my dad.
4.2 Links
Meta:
Dictionaries:
Tools and Resources:
Documents: